Specialised Solar & Battery Storage Courses
Energy Training Group is raising the bar of training in the solar energy sector and electrotechnology industry. Be taught by leading experts and gain in-demand skills and knowledge for a future in the advancing renewable energy industry.
Enrol and start learning with us today!
Energy training group aims to positively contribute to the industry by raising the bar of training in the solar energy sector through the provision of quality practical education leading to real employment outcomes.
Energy training group aims to be Australia's leading solar training provider, delivering competent, confident, and qualified solar practitioners and other high-demand electrical certifications throughout Australia.
We are providing training online and in-person workshops for students to grasp the latest trend in the field of the renewable energy sector.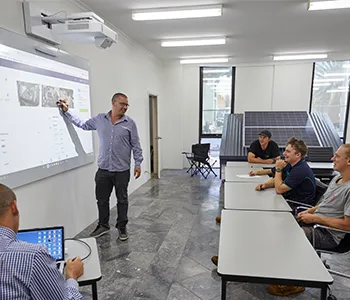 Clean Energy Council Accredited Installer
Energy Training Group courses provide a pathway to attain Clean Energy Council Accreditation.
Our students will gain the necessary skills and knowledge to confidently take on work in the renewable energy industry with nationally recognised training from ETG.
We provide accredited training for Australians who wish to work in roles that require knowledge and skills in renewable energy, even for those across various industries. All training is designed with a unique learning approach to ensure the specific training needs of all our learners are met effectively and efficiently.
Learn How to Install, Maintain and Test Grid Connected Photovoltaic Systems
We are passionate about learning. Our primary focus is on supporting students and providing them with the confidence and competency required for a rewarding future working in this field. You will learn how to install, maintain and test Grid-Connected Photovoltaic systems and battery storage systems connected with it